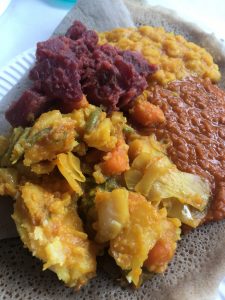 As of Wednesday 5th August, Lula's Ethiopian Cuisine will be back at Oxford Outdoor Market at Gloucester Green! Bringing you the authentic Ethiopian food you know and love, as well as some delicious new additions to our menu.
Of course we'll have all of your favourite dishes, from spicy chicken or lamb, to our hugely popular red lentils or gomen, all served hot with injera or rice.
In addition, come and try all four different flavours of our new cakes that have been going down a storm for home deliveries during lockdown – suitable for vegans and gluten-free too, not that you'd tell from the taste or texture! Why not grab one of our tasty cakes with a cup of warming spiced Ethiopian tea.
With the return to the market, that means we can now only offer delivery around Oxford on Thursdays. We hope you'll still look forward to your home-cooked mid-week meal from us delivered to your door – but if Thursday doesn't work for you, you can also pre-order our larger portion sizes to collect from Common Ground on Fridays and now Gloucester Green market on Wednesdays. We hope that gives you enough options to choose from!
As a special thank you to our loyal customers, we're offering a discount on launch day. Sign up to our mailing list by Monday 3rd August to receive your offer.